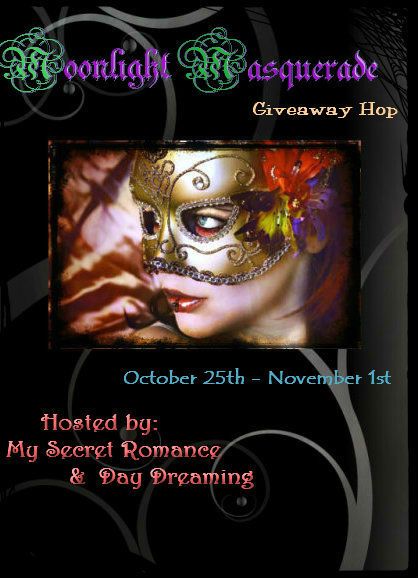 Welcome to my stop on the Moonlight Masquerade Hop! Thanks to the hosts My Secret Romance blog and Day Dreaming blog! Since this is about costumes and masks and other sexy things, I figured the perfect prize would be an ebook copy of my book, Masquerade.
Here's the blurb:
Annelisa Fielding has had the blessings of wealth her entire life, thanks to her industrialist father. However, there is one thing even he can't give her: a title. So he arranges a marriage between his daughter and the Earl of Swindon, Thornton Sutcliffe. As long as his future bride is a virgin, the Earl will tolerate the marrying down because in return for taking Annelisa as his wife, her father will pay off his debts. Everyone wins, as far as the men are concerned, but Annelisa wants more out of marriage than a title and is willing to wait. But time is running out. If she doesn't find some way out of the marriage and fast, in one month she'll become Lady Annelisa Sutcliffe.
The solution to her problem? Count Nikolai Shetkolov, a diplomat in the service of the Tsar and stationed in England. Single, powerful, and sexier than any man Annelisa has ever laid eyes on, Nikolai is the perfect choice to help a young lady lose the one thing her odious future husband prizes most. But Annelisa will have to watch out or she may get be more than she bargained for with Nikolai.
I love the idea of a masquerade party, and when I began writing the book I knew I needed a way for Annelisa to be able to seduce Nikolai. Since it's set in the Victorian Period, she couldn't exactly just saunter up and tell him she wants him. So a masquerade was the perfect plan.
Here's a little of their first "meeting" at the party:
He stood alone near the entrance to the ballroom, almost as if he were waiting for someone. All she had to do was make him interested in her and seduce him into joining her in some secluded spot nearby. Taking another deep breath, Annelisa willed away the butterflies in her stomach and reminded herself she had to succeed if she wanted to keep her freedom.
In her most alluring voice, she began. "Monsieur?"
He turned toward her and immediately she registered that he appeared different this night.
"Mademoiselle, monsieur."
"Pardon moi, mademoiselle."
Annelisa was impressed by his accent. While his harsher Russian accent tinged his speech when he spoke English, it was absent as he spoke French.
"No need to apologize, sir," she answered in a heavy French accent.
"You speak English?" he asked, his Russian accent obvious once again.
"Of course! We are in England."
As they spoke, she studied his face for any sign he was interested. In just a short time, she saw she'd piqued his interest.
"Allow me to introduce myself. I am Count Nikolai Shetkolov, diplomat for Tsar Alexander II."
Annelisa extended her gloved hand, and he bowed to place a kiss on the back of it.
"And who are you, mademoiselle?"
"I am the goddess Aphrodite, of course!" she teased.
Nikolai smiled. "No, I meant what is your name."
Annelisa had decided to use the name of a woman her governess had told her about—a French woman she'd known when she was a child.
"Violet Moceanu."
"It's a pleasure to meet you, Miss Moceanu."
"Are you enjoying yourself, Count? You don't dance?"
Annelisa watched him change as a stiffness overcame him.
"Not particularly well, my lady, but I will make an exception for you."
Behind her mask, Annelisa beamed. This was going to be even easier than she'd hoped.
"Perhaps later. For now, I prefer to enjoy your company this way."
She watched as relief washed over him and his body relaxed. "I think I'd like to take a walk outside for some fresh air. Would you care to join me?"
"Absolutely, Miss Moceanu."
Taking her arm in his, he guided her through the library to the outside. As they strolled around the well-manicured Italian gardens famous to the Stewart mansion, they made conversation while Annelisa's eyes scanned the area for the place she'd bring her plan to fruition.
Just the way he spoke to her as if she were an intelligent being impressed her. She'd made a good choice in Nikolai, but as they continued to walk the mansion's grounds, she worried he might be a little too respectful to do what she needed him to do.
Subtly, she began stroking his arm with her free hand and then slid her gloved fingers inside his sleeve to touch his wrist. Even through the fabric, she felt the heat of his skin and sensed his pulse quicken as they continued their conversation.
She was sure he was interested. Now if she could induce him to make a move, she'd willingly oblige him and achieve her goal.
Stopping behind a large hedge out of the view of the other partygoers, she looked up at him and moistened her lips. Fear thrummed in her veins as she waited for him to act on her signals. What if he was too honorable to help her complete her plan? For a long moment, she wondered if she would fail as the thought of marrying Thornton Sutcliffe made her heart sink.
Nikolai touched her mask and she quickly grabbed his hand to stop him.
"No."
"How am I to give you what you've been telling me you want if I can't see your face?"
"The mask must stay."
Despite his obvious confusion, her requirement didn't deter him. Gently, he pressed his lips to hers and kissed her. Annelisa's heart pounded against her chest at the thought that this was her first real kiss. Suddenly, fear raced through her. Was she doing it correctly? Would he know she was inexperienced in this, and therefore, in what she hoped would follow and end their tryst prematurely?
Masquerade is one of my favorite stories. I hope you enjoy it as much as I do. So how do you enter? Easy. :) Just fill out the Rafflecopter with all the entries you choose to do--the more you do, the better your chance of winning. The giveaway is open internationally, so an email in your comment gets you in.
Good luck, and have fun hopping around!
a Rafflecopter giveaway