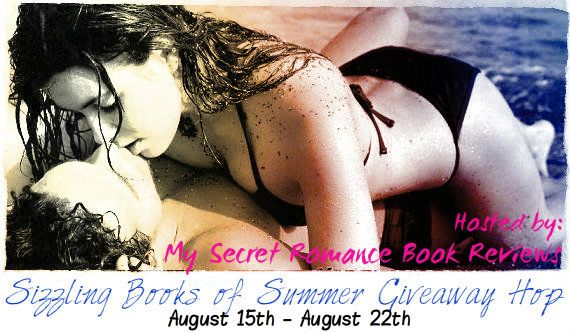 Thanks to Taryn at My Secret Romance for coming up with such a great idea for a giveaway hop. Sexy books and drinks. Delicious. Mmmm...what's better than a smokin' hot book and a great drink? Only a sexy man waiting for you after you finish the book and drink. ;) Welcome to my stop on the Sizzling Books of Summer Hop! I write those sizzling books, so I can tell you I often need a drink after writing an exceptionally hot scene.
So here are the rules for this hop: I have to choose a sizzling hot book and a drink that I believe would go perfectly with it.
My newest release in my Sons of Navarus series, Blood Betrayed, has been steaming up ereaders since its release in late May. My hero, Saint, and his stunning heroine, Solenne, enjoy some very sexy moments as they take a chance at love for a second time. As a French woman turned vampire in the early 1920s, Solenne knows a thing or two about good drinks. Since my vampires enjoy food and drink in addition to blood, I asked Solenne for a recommendation as to what drink would go perfectly while reading Blood Betrayed and her answer was? The French Martini, of course.
Isn't this a gorgeous drink? I could go for one right now. ;) In case you want to run out to the liquor store for the necessaries for this, here's the recipe:
1-1/2 ounces Chambord flavored vodka
1/2 ounce Chambord Liqueur
2 ounces pineapple juice
fresh raspberries, for garnish
Add the vodka, Chambord and pineapple juice to a cocktail shaker filled with ice. Shake until well-chilled and strain into a petite martini glass. Garnish with raspberries.
(Recipe from thebubblygirl.com)
Okay, onto the giveaway. (Sorry, I got lost in the drinking.) Since you're probably going to need some cold, hard cash after shelling out some bucks to get the Chambord, how does an $10 Amazon giftcard sound? And since drinking goes so well with reading, in addition to the giftcard the winner will choose one of my ebooks too. (Check out the right sidebar for your choices. Not including Blood Spirit or Blood Prophecy because they haven't been released yet. You shouldn't have drunk so much. LOL)
So how do you get your hands on some $$ and a sexy ebook? First, leave a comment with your email address. Also, do as many of the entries in the Rafflecopter as you like. The more you do, the better your chances of winning.
The giveaway is open internationally, so an email gets you in. After you do your entries here, be sure to hop around to the other blogs and good luck!
a Rafflecopter giveaway