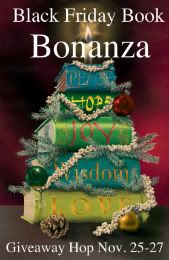 Welcome to the Black Friday Book Bonanza Giveaway Hop sponsored by the wonderful bloggers at
Book Savvy Babe
,
The Bawdy Book Blog
, and
Alive On The Shelves
! Thanks Heather, Jenn, and Lisa for putting this all together. For those of you readers who've been out in the madness shopping, I hope you found what you were looking for and got a sweet deal on it.
So here's the lowdown on the giveaway here at my blog. First, it's open internationally, so as long as you have an email, you're good to go. There will be two winners. First prize will win any two of my books. The winner will be able to choose whichever two ebooks they'd like. Second prize will win one of my books, again the winner's choice of the ebook they like best.(For blurbs and excerpts for each book, click on the links in the left sidebar.)
Here's how to enter: The only mandatory entry is you must follow my blog and leave a comment with your email and the total number of any extra entries. For extra entries, you can do the following:
For 1 extra entry, you can follow me on Twitter
https://twitter.com/#!/gabriellebisset
For 2 extra entries, you can join me on Facebook
https://www.facebook.com/profile.php?id=100002481284652
For 3 extra entries, you can subscribe to my newsletter (Look for the pink box to the left)
Easy peasy. Please be a wonderful person and add up the entries in your comment below. And be sure to leave your email address so I can contact you when you win. :)
Enjoy your weekend and blog hopping! There are great prizes to be had at all 70+ blogs participating.