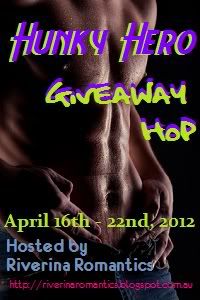 I wanted to give a shout out about the Hunky Hero Giveaway Hop sign ups going on right now over at Riverina Romantics. The great bloggers over there are hosting their first giveaway hop April 16-22. Here are the details:


All authors and book bloggers are welcome to sign up; however we do ask that you are followers of Riverina Romantics either by GFC or Facebook. We also ask that the giveaway is book related, either ebooks, paperbacks or even hunky hero swag. If you link up to this giveaway hop you are responsible for providing the prize(s), determining the winner(s) in a fair manner and for posting them to the winner(s).
So what are you waiting for? Head on over and sign up! I wonder if they're going to be showing hunks like they did a few Wednesdays ago during the XXX week? Hmmmmm....one can only wish. ;) I know I'll be giving away my hunks, including some really great swag with those yummy men from my Sons of Navarus books, so look for that in April.
Have a great one!